Hi! I am
Lauren
from "
Busy Bee Lauren
". I am so excited to be guest posting today, because let's face it...I heart me some Mesa. I was born and raised in Mesa and I love it so much. I often hear people claim that Mesa is super boring and that there is nothing fun to do, ever. I will be honest, I have been guilty of claiming the same, but those are just on days when I feel like the heat will fry my brain and feed it to some local scorpions and cockroaches. Anyway, I have compiled a list of MY favorite places in Mesa. I hope you enjoy :)
Dude. If you haven't been to Sweet Cakes on Main Street in Downtown Mesa, get over there before I have you slap you in the face. Cutest little cafe, nicest people, and the yummiest food. I have DREAMS about thier bread bowls full of brocolli cheese soup goodness. And the cinnamon rolls? um. hi. delicious. Go at lunch and get the 1/2 sandwich and soup special!
Located inside a renovated old home, is the best antique store ever. Anyone that knows me knows that I have a slight obsession with owls. And by slight, I mean I should probably seek some sort of owl obsession rehab. But anyway, I have found some of my favorite collectible owls at Cherry Street Antiques. I pretty much love that place a whole lot. Sign up for their mailing list to receive awesome coupons!
3. Goodwill
Ok, so I love to shop. And since I am on a budget, I have turned my love for shopping into a slightly better alternative: thrifting. There are plenty of awesome thrift stores in the valley, but one of my favorites is on Mesa Drive and Brown. Now, this is a HUGE deal that I am telling you this, because anyone that reads my blog knows that I keep my thrifting locations under wraps. But, I am feeling loving today. So go get your thrift on and find vintage clothes, great furniture and awesome decor for dirt cheap. Just ignore the pee smell in the store. Awesomespice.
My mom put me in dance classes basically right out of the womb. Ok...when I was 2. I took all of my dance classes at Jeanne's School of Dance, and I loved it. There are a few studio locations now, but my heart lies with the East Mesa location on Higley and Brown. If you are looking to put your kids in dance, PLEASE go to Jeanne's and make sure to put them in classes with "Miss Jennifer". An awesome way to build confidence is through dance.
Mmm...Mango's. This Main Street eatery is the bomb diggity bombspice. The BEST chips and salsa, and the best Mexican food for very reasonable prices. Sitting outside and people watching is the best. Try it out, and thank me later.
The MECCA of scrapbooking supplies! My mom and I have spent quite a few bones there and have yet to regret any purchases made. The store is huge and is full of scrapbooking inspiration. You can take classes, there is an open lab, and the largest selection of scrapbooking paper I have ever seen. Seriously, I am getting warm fuzzies thinking about that store.
I LOVE Cinemark! It is pretty much the only movie theater we go to now. It is never super crowded, which translates to us being able to always get the seat we want (hello...the row with the bar to put your feet on!). But, the best part about Cinemark is the Monday night deal. If you go with a group of at least 3 people, you can get in for $5.75 a person, and you each get a free popcorn. ARE.YOU.KIDDING.ME?! That is a steal. And it makes me want to marry Cinemark and eat popcorn for the rest of my life.
Basically the coolest 2nd hand bookstore around. It has countless books, records, movies, magazines, video games, etc. The books are so inexpensive, too! Oh! And they have a little cafe now...WITH GELATO. dude.
There are plenty of other places in Mesa that I love with all of my heart, but I figured that list is a good start :) And for those that read that entire post, I am rewarding you with a giveaway! A best seller from my
Busy Bee Shoppe
, the "We Can Work It Out" headband!
All you have to do is share in the comments what your favorite thing about Mesa or your hometown, is!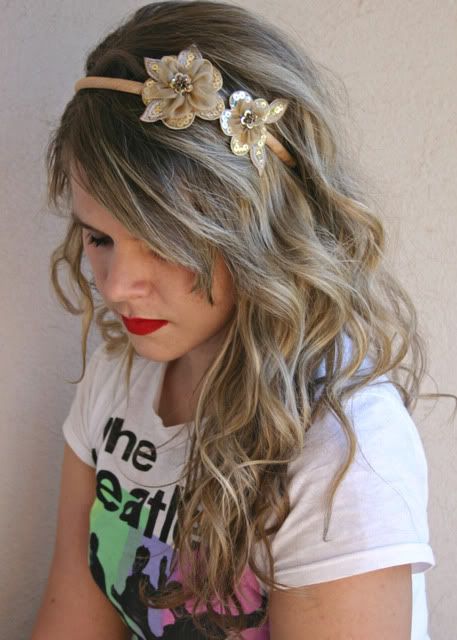 Good Luck! And thanks for letting me post over here :)


And here are the rules:
You do not need to be a Mesa resident to win, but if you live outside the U.S. we expect you to pay your own postage :)
Giveaway ends Sunday night, June 7th, at midnight.
Winner will be announced Monday, June 8th
Want an extra entry? Leave a separate comment letting us know if you do any of the following:
1. Post our button on your blog. (Look to the right for the info)
2. Tweet about I Heart Mesa (with a link to our blog)